KOHLER SCHOOL SONG, LOGO, HISTORY
OFFICIAL SCHOOL SONG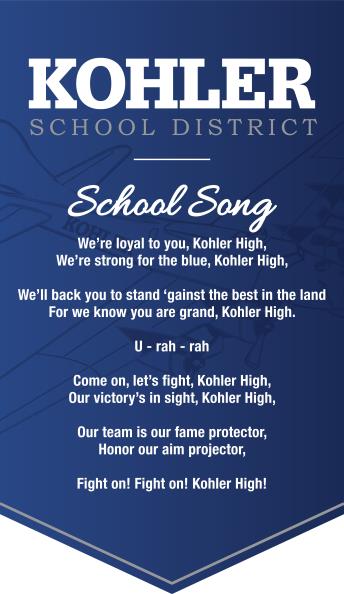 OFFICIAL LOGO
BOMBER (B-17G Flying Fortress) & INITIAL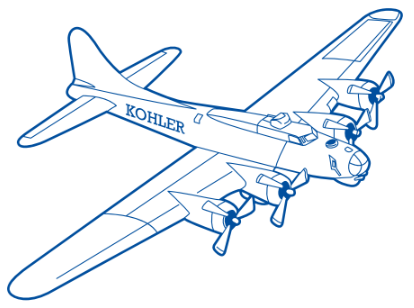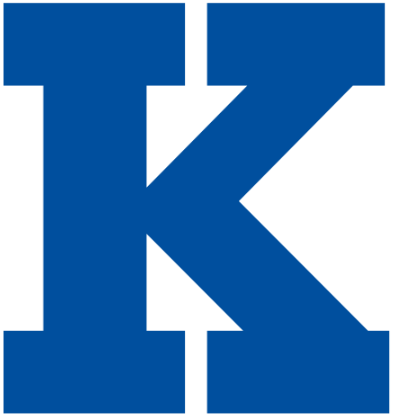 ALTERNATE LOGO
INITIAL WITH BOMBER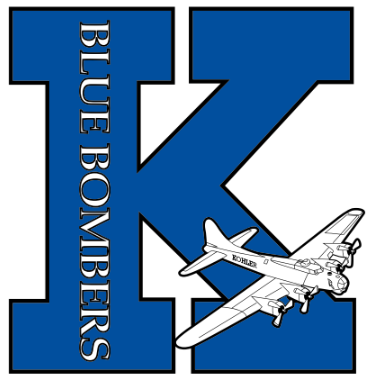 OFFICIAL COLOR: Blue (Pantone 287) & White (Color Association of the US, Inc. Cable No. 70001)
OFFICIAL LETTERING: Lubalin Bold
---
MASCOT HISTORY

What is the background as to how Kohler High School became the Blue Bombers?
Kohler of Kohler News, march, 1945 - Kohler Co. military notes:
1941 - Kohler Co. offered its facilities for the manufacturing of war materials. Examples of the materials that were manufactured were:
Shells: Designed & built equipment to advance the delivery
Fuzes: Assignment to build for 155MM, 75MM, 37MM artillery shells & 20MM aircraft shells. These are the mechanisms at the nose of a shell which detonate the explosive content at the desired point in the trajectory or on contact.
Submarine Torpedo Tubes: Furnished torpedo tube barrels, bronze parts and subassemblies for Manitowoc-built submarines. These were among the finest in the Navy.
Aircraft Valves and Fittings: Summer of 1942 Army Air Corps urged Kohler Co. to go into critical production and the assignment was accepted.
Aircraft Piston Rings: Summer of 1942 manufacture of the piston rings for Pfaft and Whitney engines used in some of the most important American military planes
Manufactured Shell Rotating Bands, Diesel Engin Bearings, & Aircraft Lock Nuts
Kohler Electric Plants: Became one of Kohler Co. most important contributions to Army and Navy military success.
When did Kohler High School officially become the Blue Bombers?
Sheboygan Press (&Notes) - newspaper articles were researched with specific dates of our sports teams and how they were referenced
1944

Tue, Jan. 4 - "Kohler Cagers"
Fri, Oct. 20 - "Kohler Football Team"
Tue. Nov. 28 - "The Kohler Quintet"
Wed, Nov. 29 - "Kohler Blue & White"
It is Noted: Fall, 1944, Lester Conger, former District Administrator (1921-1945) officially named the BLUE BOMBERS

1945

Mon, Feb. 19 - "The Blue Bombers" - 1st time BLUE BOMBERS appears in print
BUT Other references continued to appear in print:
Thur, Sept. 13 - "The Model Villagers"
Wed, Oct. 17 - "The Kohlerians"

1946

Sat, Feb. 9 - "Kohler Blue Bombers" & "Kohlerians" appear in the same article
Nov - "The Blue Bombers" appears in the football team picture

1947

Mon, May 26 - "KOHLER BLUE BOMBERS" is all that is printed moving forward

The official logo is the B-17G Flying Fortress and was approved and put into School Board Policy on February 14, 2005 (Jeff Dickert, District Administrator)
The "K" is also an official logo and is in the Lubalin Bold font
The official color: Blue (Pantone 287) & White